Trial and Error: Flipped Course Boosts Passing Rates to 80+ Percent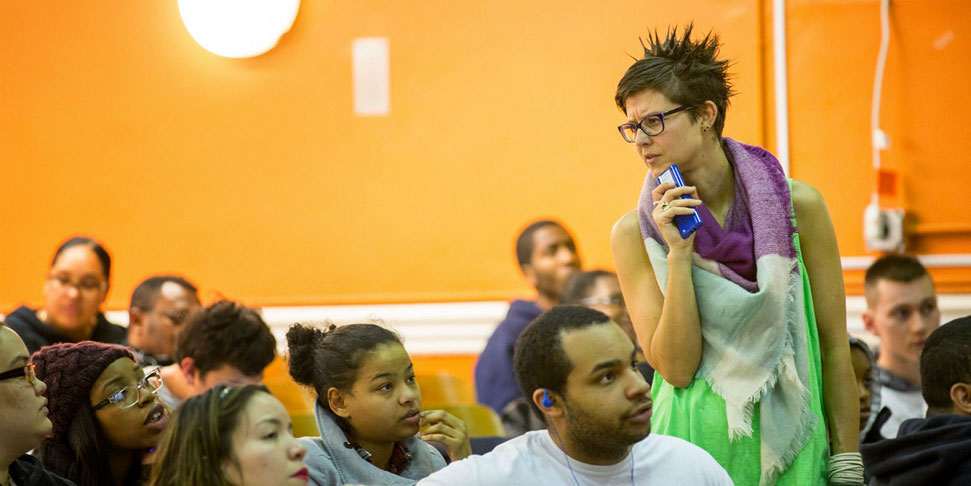 A Calling for Public Service: Lehman Alumnus Finds His Niche
By Jennifer Goodman
The Institutions: Lehman College, CUNY, and Hunter College, CUNY
The Problem: Students at Lehman and Hunter—and across the country—struggle with General Chemistry, a gatekeeper course required for many science and medical-related majors. With average national passing rates of 50 percent to 60 percent, the class presents a challenge for students and instructors alike.
The Goal: Faculty at Hunter College in Manhattan wanted to find a way to boost student success in its large General Chemistry lecture classes, which had a passing rate of about 60 percent. Instructors at the selective CUNY institution aimed to come up with technology-driven improvements for teaching the subject matter.
The project team set out to accomplish four goals:
+ Increase the passing grades of students, particularly women and minorities who are underrepresented in science.
+ Reduce students' out-of-pocket costs.
+ Find effective teaching practices applicable to resource-limited public institutions like CUNY.
+ Show instructors how to adapt to the new pedagogies.
The Experiment: The team restructured the one-year course, starting with a spring 2014 pilot designed as a lectureless hybrid. Instead of the traditional three-hour-a-week lecture, the new model consisted of two hours per week of iClicker-based class and a one-hour workshop. In a "flip" from the traditional-style course, students completed most of the instruction outside of class through a set of short instructor-made videos, podcasts, an online homework system and WordPress website.
During class time, instructors quizzed the students via personal handheld response devices, or iClickers, to see if they understood the video material. This new model put the onus for learning on the students, who were encouraged to work together to formulate their responses, said Donna McGregor, an assistant professor of chemistry and one of the course designers.
The results were dramatic: More than 85 percent of the 200 students in the new course passed, exceeding the college's passing rates for even its most effective lecture classes.
In spring 2015, McGregor and another professor moved to Lehman College, a CUNY school with an 80 percent minority student body, where the GenChem passing rate was about 35 percent. They offered the flipped course and the passing rate soared to 80 percent.
What Worked (And Why): McGregor and the other instructors were pleasantly surprised at students' reaction to the at-home video portion of the course. They found that students watched videos multiple times and even rewound and slowed the speed in order to master the relevant points. "We polled students after the course and 90 percent of them approved of the model," she said.
Another student favorite was the iClicker-based instruction, which had been used before in chemistry classes. Lehman student Stephanie Onyekaba said the devices enhance student collaboration and motivate her to be prepared for class.
"During class, students around you will ask questions and I don't want to feel left out when everyone else has clues on how to solve the problems," she said. "This flipped model really forced me to know the material well."
The iClickers also help professors to know in real time what aspects of the lesson students are struggling with based on their responses, added McGregor.
Another advantage of the flipped class was that students were not required to purchase a textbook. All materials were imbedded in the platform, including an OpenStax e-textbook, which reduces student costs by 50 percent or more -- from $300 to between $100 and $150.
Since its inception, the course has been offered to over 3,000 students at both institutions and is now taught by 13 instructors. Last year, Lehman College and CUNY won the Online Learning Consortium's Digital Learning Innovation Award in the faculty-led team category for advancing undergraduate student success through the adoption of digital courseware.
What Didn't (and Why): With less emphasis on lecturing, the course instructors had the freedom to restructure the class sequencing, but this proved to be a lot of work in the beginning, McGregor said, because they were literally rewriting the way they taught the class.
"Neither of us loved the sequence in the textbook," she said of course co-creator Pamela Mills, chair of Lehman's chemistry department. "So coming up with a new sequence was fun but implementing it was scary." After the initial work, implementation actually went well, although the team continues to tweak content and video presentations on an ongoing basis.
Creating videos to accompany each class was also a challenge. One of the most daunting aspects was deciding what material to include in each 10-minute-or-less presentation.
"In a normal lecture we work through multiple problems in six different ways so the students can see the answer in multiple ways," McGregor said. "In video backbone part of the class you have to choose your example carefully so you cover exactly what you want to cover."
Another challenge is that faculty have had to reboot their teaching style. For example, the instructors are cautioned not to lecture during class about the material in the videos because students will not watch them beforehand if they know the lesson will be covered in class. This leaves some instructors wondering what their new role is.
"What am I going to do in the classroom if my students are watching videos instead of listening to my lectures?" McGregor said. She counsels instructors to use class time to actively engage with students, and said the course creators hope to offer formal faculty development for instructors who are interested but nervous about teaching the course.
In addition, the peer-supported portion of the class can have a downside, said Onyekaba, because collaborating with other students is helpful only if they are also working hard. "If you sit around students who don't contribute or don't make effort to study the material in advance, it makes you disadvantaged in the class," she said.
McGregor agreed, saying that there is a subset of students who blame a professor's style for their challenges. "Some percentage of students will always struggle with the subject matter, no matter how it's taught," she said.
Faculty plan to continue to study student outcomes and behaviors to find ways to meet the needs of more students, McGregor said. For instance, many Lehman students who took the initial class said they wanted more classroom time, so course creators added an extra hour of iClicker instruction.
Finally, figuring out the right software system has been an ongoing issue. The CUNY tech team initially built a digital platform for the course material, but once the class started to scale, the team moved to a system from Sapling Learning. They're also looking into new platform development with a cloud-based company called Tophat.
"As the technology gets better and better, we have to keep learning about it," McGregor said.
Next Steps: The course instructors plan to partner with faculty in the CUNY chemistry department and other disciplines to develop flipped/active learning modules for other courses.
McGregor said finding ways to innovate class time is never over. "One of our next steps is to work on integrating new and emerging technologies to improve the online student experience," she said.
More Information: To view a video from the flipped chemistry course, click here.