Riverdale Press: Months After Storm, Puerto Rico Still in Crisis, Activists Say
Friday, December 22, 2017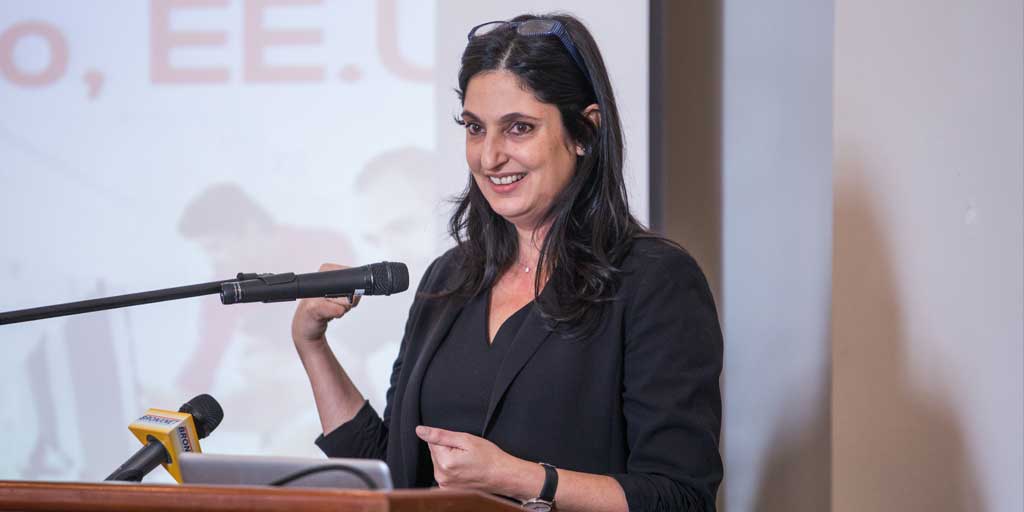 Riverdale Press: Months After Storm, Puerto Rico Still in Crisis, Activists Say
By Lisa Herndon
Homes in disrepair. Electricity still not fully restored. More than 100,000 people leaving the island.
Although the aftermath of Hurricane Maria no longer dominates daily media coverage, the crisis—at least for those in Puerto Rico—still continues.
Lehman College refuses to let the commonwealth fade into the background, recently hosting a one-day conference about the aftermath of Hurricane Maria on Puerto Rico.
"This is a humanitarian crisis unfolding right here in the states," said Rima Brusi, an anthropology professor who organized the conference with Lehman's Center for Human Rights and Peace Studies. "These are American citizens dying because of an ineffective response."
Although the official death toll is more than 60, Brusi says those figures are under-reported because it fails to take into account the people who died because the island lacks the electricity to power medical devices like oxygen machines or provide refrigeration to store medicines like insulin.
As of Dec. 18, nearly 70 percent of power had been restored, according to Status.PR, a website run by the Puerto Rican government. Additionally, a December New York Times report stated the death toll might actually top 1,000.
The island's infrastructure fails to provide basic services like drinkable water for all of its residents.
"Even though most of the country has running water coming out of the faucet, they still have to boil it because it's still unsafe to drink," Brusi said.
From educators Brusi has spoken with on the island, some college-age students are no longer attending classes. Why isn't clear—whether they simply don't have proper transportation, or they've simply left Puerto Rico.
Additionally, some public school buildings are being used as shelters, which poses the unanswered question of how to provide housing for displaced residents in order to reopen the schools, she said.
The education challenges have contributed to an exodus of the island's population.
"Hurricane Maria's impact on Puerto Rico and it population is unprecedented," according to a report from The Center for Puerto Rican Studies at CUNY's Hunter College. It estimated 114,000 to 213,000 residents will leave the island annually.
Moreover, from 2017 to 2019, Puerto Rico may lose up to 14 percent of the population, who would be migrating to states like New York, which ranked fourth on its list of destinations. The report projects at least 7,300 people will relocate here.
Brusi knows first-hand the need for so many to leave Puerto Rico. Her son lost his job on the island and is currently working as a bartender here in New York. Her mother-in-law lost electricity in her Puerto Rico apartment, creating health and safety concerns, so she is living with Brusi and her husband as well.
And she has more relatives still in Puerto Rico.
"They have a generator so they are not as bad (off) as other people," she said. "Sometimes it's hard to get (diesel) for the generators."
The conference also was a learning opportunity for students like Lehman senior Valentina Pelaez, who is studying human rights.
"Sometimes when you hear about all these emergencies, you are only familiar (with), 'They have no food or they have no water or there are health emergencies,' but you really don't know the cause of them," Pelaez said. "Or, you don't know the political structure of the nation or city."
After the conference, Pelaez said she plans to stay better informed, sharing her knowledge with friends and the community for now, and then maybe later deciding how she can help.
Puerto Rico already was in a financial crisis when Maria hit in September. Last year, Congress passed legislation that would help the island deal with more than $70 billion in debt. It would do it by establishing financial oversight and management, including approving the island's annual budget, the governor's fiscal plan, and reviewing laws, contracts and regulations.
Yet, Washington needs to do more to help Puerto Rico—something many have criticized the Trump administration over.
"Puerto Rico's situation is a lesson and wake-up call, even for those who have no immediate connection to the island," Brusi said. "Disasters happen everywhere in the U.S., and all U.S. citizens expect their government to provide adequate and rapid humanitarian assistance whenever we have a crisis."