Professor Penny Prince Professes Love of Performance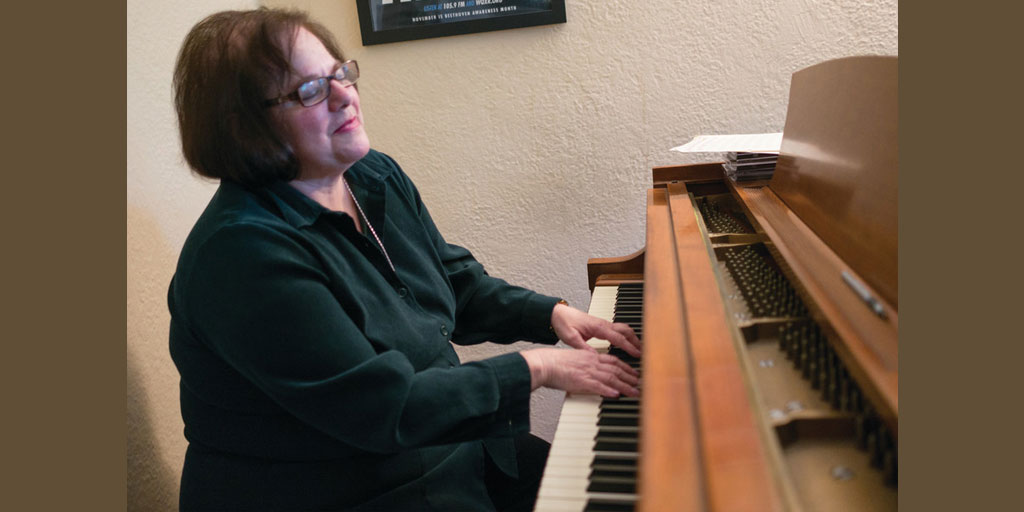 Professor Penny Prince Professes Love of Performance
By Tiffany Moustakas
This article appeared on riverdalepress.com on June 29, 2017, with the headline: Professor professes love for performance.
Penny Prince always thought she'd be a concert pianist.
When she was as young as 4, she found herself playing piano every day, citing it as a source of comfort and creativity.
But even after formal music education at the Manhattan School of Music, Prince found herself teaching at schools like P.S./M.S. 37 and Riverdale Country School. Eventually, she was offered a job as a professor at Lehman College.
Although Prince's job is primarily focused on preparing aspiring music teachers to succeed, she found a way to blend her newfound love for teaching with years of composing and performing original music on the piano. A dozen years ago, she decided she wanted to put on an original musical theater production every year.
Throughout the last decade, she's created the music and lyrics to a number of productions, including fairytales such as "Cinderella" and "Sleeping Beauty."
"I could make use of all of those experiences," she said.
In May, she produced an original production of "Rapunzel." The show had performances on campus and at the Bronx Library Center on Kingsbridge Road. Prince led a cast of 16 people — both students and members of the local community.
The production started in January after Prince created original music and lyrics. After that, the cast wrote a collaborative script for six weeks as they rehearsed their parts. Each person brought their own flavor of comedy and heartwarming moments to the show, she said. The experiences she's had keep Prince enthusiastic to produce more original productions in the future.
"Musical theater is a way of expressing yourself, even if you're not an actual music major in the school," she said. "They bring something to it that I never would've thought of just sitting in my own house."
Outside of the classroom and the theater, Prince considers herself a citizen of Lehman, and is involved in committees and panels that bring attention to issues that surround the LGBTQ community, bullying, how minority groups are dealing with the Trump administration, and more.
She's also part of a City University of New York faculty committee that aims to bring higher education to prisons, something she hopes to bring to the college in the future.
"I want to be a good role model and do the right thing at Lehman," she said.
With 20 years of teaching experience under her belt, Prince has learned a lot about herself as an educator and musician and how much creativity and spontaneity can go into her day-to-day job.
"Music is my main identity," Prince said. "I could do it in my sleep. It's definitely my main way of expressing myself and experiencing life. I definitely have grown as a musician through my experience with my peers and my students."
But most of all, she's learned to find the strength in herself to overcome any obstacles she might face along the way.
"I'm just going to continue keep doing the best I can," she said. "When challenges come up, I hope to respond to them and do the right thing. I always want to do the right thing."
Editor's note: Among Penny Prince's many students over the years was reporter Tiffany Moustakas.