Ph.D. Candidate Pursues Groundbreaking Cancer Research in Lehman Biology Lab
Tuesday, November 28, 2017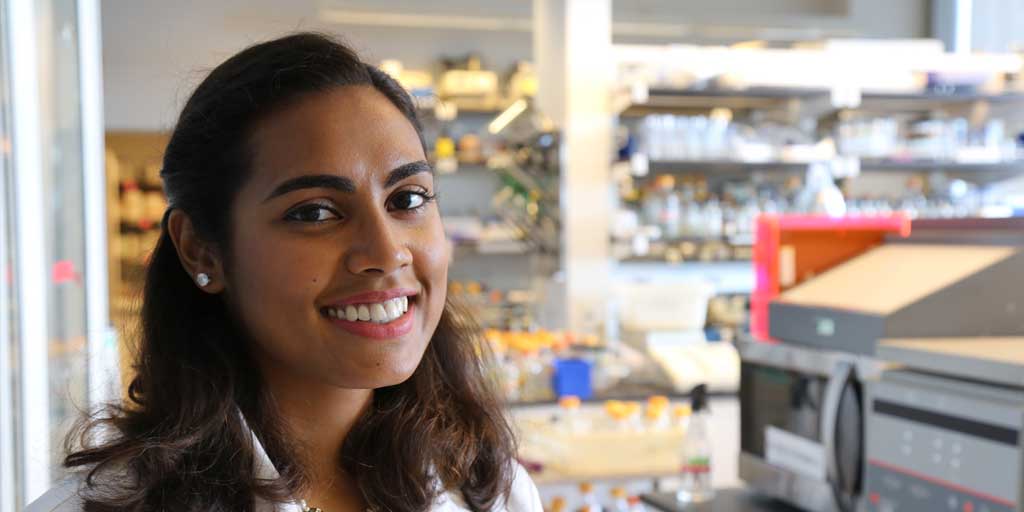 When Bronx native Leah Persaud, a Ph.D. candidate in biology at the CUNY Graduate Center, was deciding what lab to work in, she came to Lehman College. Since 2015, Persaud has been conducting research in the lab of Moira Sauane, a professor in Lehman's Department of Biological Sciences, that she hopes will ultimately lead to new cancer therapies and drug treatments.
"The Lehman campus was always my first choice," said Persaud, who expects to earn her Ph.D. by the summer of 2019. "It was a great feeling to come full circle and return to the Bronx to finish my formal education by working on a Ph.D. And of all the labs I've worked in, this is the best. Sauane is super personable and supportive, very hands on. When there were new experiments and techniques I needed to get acquainted with, she was there for me."
Persaud's preference for the Lehman lab—and for the College overall—came out of her first-year research rotation experience working with Sauane. "Leah has consistently demonstrated exceptional talent, dedication, and commitment as a young scientist," said Sauane. "In the course of her work in my laboratory, she has independently planned and executed challenging research goals."
Persaud, who grew up in the Wakefield section of the Bronx and now lives in Riverdale, first developed an interest in science as a student at Brooklyn Technical High School. As as undergraduate at the University of New Haven, she was preparing for a career as a forensic scientist, but an internship in Germany "reignited" her interest in scientific research. She discovered that much of her work in forensics was transferable to the biology research lab.
Her current work is closely involved with Sauane's research on gene therapy and developing anti-cancer therapeutic agents for treatment. She has done extensive work with Interleukin 24, (IL-24) a tumor-suppressing protein molecule found in the human body's immune system. Several studies have shown that cancer cells die when exposed to IL-24. This new treatment is currently in phase II clinical trials.
Persaud's work with Sauane and others on this subject was recently published in The Journal of Molecular Cancer Research. Earlier this year, Persaud presented the results of these experiments at the American Association for the Advancement of Science conference and is awaiting publication of an article in the periodical Cancer Journal.
Outside of the lab, Persaud teaches microbiology at Lehman and for the past two summers, she has mentored local high school students as part of the College's STEM Research Academy.
"I always remind my students that you're always learning," she said. "Sometimes experiments don't work, so you have to deal with disappointment and failure. But when you get amazing results in an experiment, it inspires you to do more."