On March 3, all five boroughs of New York City will recognize NYC Men Teach Day—a citywide celebration to honor the contributions of men of color who are educators—including an event at the College in Carman B-40 from 4-6 p.m.
The NYC Men Teach Initiative began in January 2015, when Mayor Bill De Blasio pledged that New York would develop programs that would result in 100 men of color becoming public school teachers in the city within three years. Working alongside Teach for America, New York Men Teach, the Department of Education, and Center for Economic Community, Lehman College helped launch the initiative last spring. It is open to students currently enrolled in a CUNY college who want to become certified to teach in New York State.
The program was intended to bett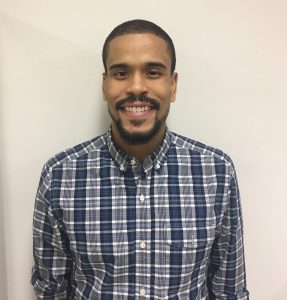 er the lives of future generations. Yet in just one year, it has already changed the life of Lehman graduate student Corey Sapp, who is currently pursuing his M.S. in Middle and High School Education. Sapp was selected as the Student Ambassador to represent NYC Men Teach at Lehman for the Academic Year 2016-17. And while he has not entered the classroom yet as a teacher, he is already transformed. "Before joining, I felt isolated in my education," said Sapp, 27, who is in the first cohort of approximately 20 students. Now he's a part of a network of peers—and mentors—who have shown him possibilities he didn't think were possible.
Sapp grew up in the South Bronx, and is a product of the borough's public schools. "I've had teachers who didn't care and had teachers who didn't know my name and still failed me," he said. It was an experience that left him disaffected—but also determined to create a new learning environment for students.
Not only is Sapp dedicated to being a presence in the classroom, he also believes that being a man of color will have added benefits for his students. In New York City, only 8.3 percent of teachers are Black, Latino or Asian men, while the student body is comprised of 43 percent of male students of color.
"It's extraordinarily important for young brown and Black men to see men of the same hue, people like them, as educators," he said. "You ask [many] Black and brown boys what they want to be and they say some type of athlete or entertainer. But if Black and brown men really want to change America, we need to stop entertaining America. And change it."
He's changing it by becoming a teacher. And though his focus will be history and social studies he does not shy away from making sure his students know current movements and issues—including Black Lives Matters and police brutality—that will shape the future. "Understanding how painful histories affect the individual and the collective is the responsibility of active and conscious citizens," he said. "Thus, there will be volatile topics from which I cannot turn a blind eye. I hope to give students opportunities to express how any controversial topic affects their daily lives and the world they inhabit."
For more information please contact Fatima Sherif, program director at NYC Men Teach at Lehman College, at Fatima.sherif@lehman.cuny.edu.