Lehman Wins the Federal Reserve Challenge Again
Monday, November 27, 2017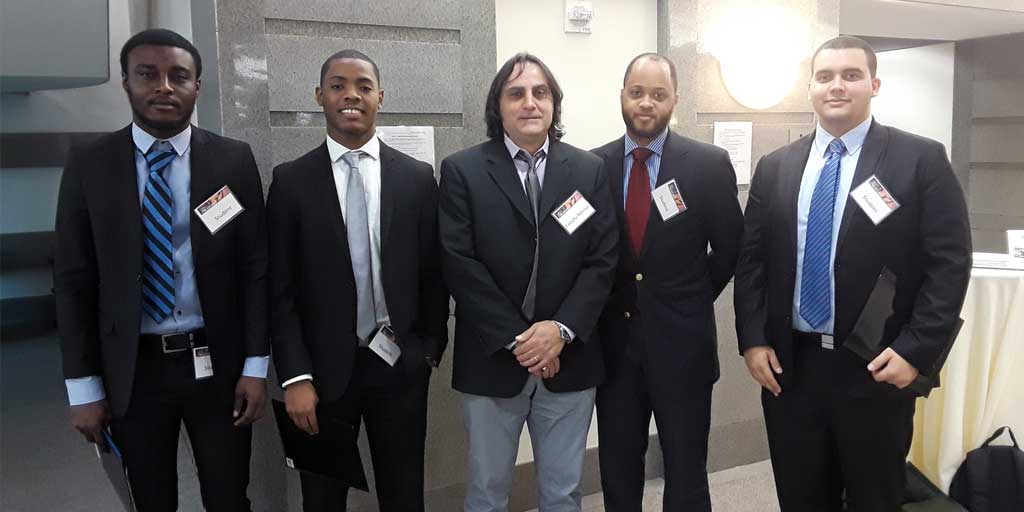 For the second time in three years, a team of Lehman College students has won the Maiden Lane Division of the College Fed Challenge under the aegis of Nikolaos Papanikolaou, a professor in the Department of Economics and Business.
This year's winning team was comprised of students Tashane Henry, Tushain Newman, Frederick Boakye, and Jesus Minervino. They won the preliminary round in October, before competing against 40 other colleges in the "Maiden Lane" finals on November 14, held at the Federal Reserve Bank of New York's Manhattan office. The College Fed Challenge competitors are divided into two divisions: Liberty Street and Maiden Lane, depending on the level of the economic-knowledge of the contestants.
"We've been competing for three years and this is the second time we're in first place. We're hoping for a dynasty," said Papanikolaou with a laugh. "We're so proud of the students and how much they prepared and worked for this."
To compete in the contest, four carefully selected students examine a case study comprised of documents, charts, and complicated data three weeks in advance. This year's case study was on the Great Recession and subsequent fiscal crisis of the last decade. The four students, under the guidance of Professor Papanikolaou, met twice a week for several hours—plus an additional 10 hours on weekends as the contest drew closer—to prepare the presentation for the Federal Reserve economists who act as judges. "This year was like a boot camp in monetary theory, Federal Reserve policy, and macroeconomics," said Papanikolaou.
"It feels surprising and exciting to win," said Minervino, a business and economics major, who expects to graduate in 2019. "Everyone on the team put so much work into this. At the end of the day, we're just excited that all this work paid off."
"All of us are very proud of our students and Professor Papanikolaou, our faculty adviser, for winning this year's Fed Challenge," said Dene T. Hurley, chair of the economics and business department. "This is the second Fed Challenge win in the Maiden Lane Division under his leadership and guidance. The commitment and time our team put into preparing for this, which was done entirely outside of the classroom, is impressive and shows our students' dedication to learning."
Now, the team and Papanikolaou will travel to Washington D.C. on November 30, where they will meet with Federal Reserve Chair Dr. Janet L. Yellen and observe the Liberty Street finals.