Lehman Student Sharon Lee Wins CUNY Ethics and Morality Essay Contest
Wednesday, December 13, 2017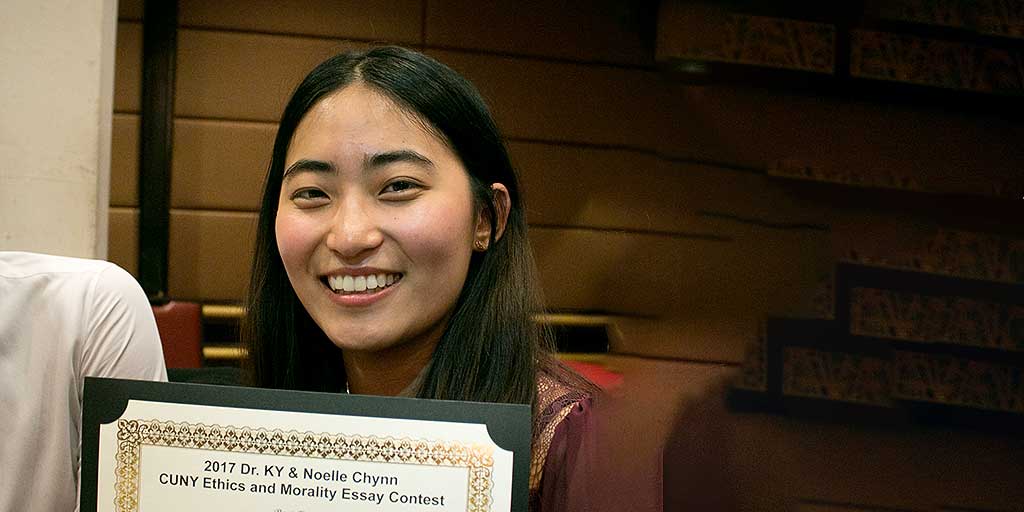 Lehman Student Sharon Lee Wins CUNY Ethics and Morality Essay Contest
A year after her father died of cancer, Lehman junior Sharon Lee honored his memory with a beautifully written reflection on loss and her father's abiding courage that recently earned her top honors in the K. Y. & Noelle Chynn 2017 CUNY Ethics and Morality Essay Contest.
Lee's essay, titled "Recollections on My Father: Courage in a Hospital," received the Best Essay award—which includes a $1,000 prize—in the CUNY-wide, Asian American/Asian Research Institute (AAARI)-sponsored competition, surpassing over 150 other entries. She received her award at AAARI's 16th Annual Gala on November 30.
Encouraged to enter the essay contest by Professor Olivia Loksing Moy from Lehman's English department, Lee focused on her father, Sunil Lee, founder and pastor of the New York Antioch Baptist Church in the Woodside, Queens.
"My dad meant a lot to me, and with him gone I needed to fill that gap in my life," said Lee, 20. "In my essay, I wanted to let people know who my father was. At his funeral, so many people praised him. I wanted to memorialize him, and let people see how he managed his suffering. And not just my dad—I wanted to write about what my family went through while he was dying."
But writing the essay proved difficult. Lee remembered "tears that just kept rolling down my face" as she composed her first draft. She thought that trying to finish the essay was not worth immersing herself in "grief and death," yet was urged on by a close friend. Lee said: "I knew I had to keep writing, but it was hard."
In her essay, Lee recalls the calm, fortitude, and kindness her father demonstrated during his illness. She poignantly describes key moments they shared, such as when she read the Bible in Korean to her appa (father in Korean); her father's final visit to the family home in Queens; and later, the moment she walked into the hospital room soon after his death.
"Sharon's essay stands out because she writes from a perspective of utter fragility and vulnerability," said Professor Moy. "Also, by including bilingual elements in her narrative—mixing English with a hesitant Korean voice—Sharon gets to the very heart of the frustrations behind language and inexpressibility. Ultimately, she is able to communicate what has been so difficult to say aloud."
Born and raised in Queens, Lee attended Fiorello H. LaGuardia High School of Music & Art and Performing Arts, focusing on piano and violin. At her mother's suggestion, she enrolled in the Macaulay Honors program at Lehman, where she began studying speech pathology. Last year, however, Lee decided to follow her own star and become an English major. She has been writing stories and poems since she was in grade school and accompanied her father to the church office on weekends, where she could write without interruptions on the secretary's computer.
The elation of winning the essay competition still fresh in mind, Lee now has her sights set on an upcoming poetry contest. "Writing is the best way for me to truly talk to people," she said. "In my writing, I always think about different ideas but it's not enough to think about them: I have to write about them."