Lehman Receives $2 Million to Double the Number of Grads with Tech Degrees
Thursday, November 2, 2017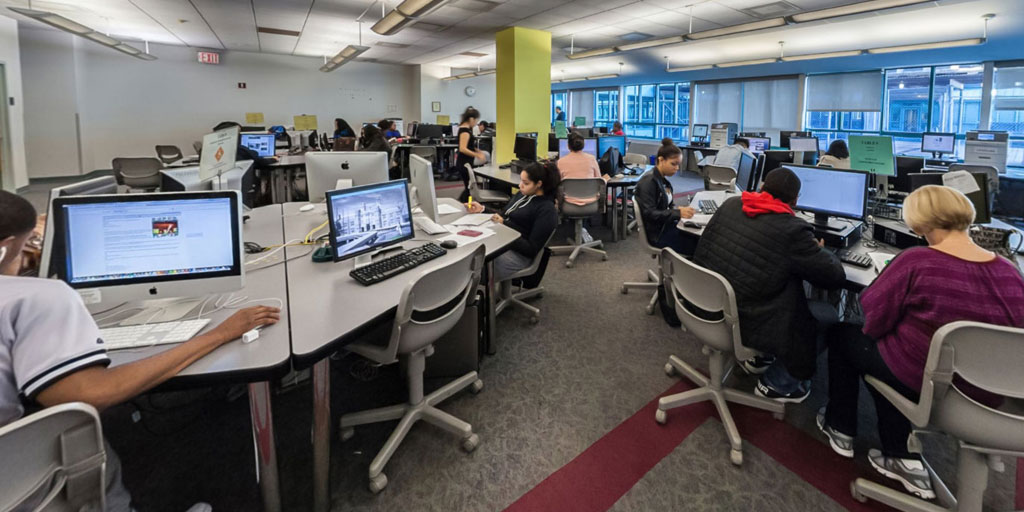 Lehman College Computer Science Students
Lehman College will be one of the first City University of New York colleges to receive a $2 million grant as part of an initiative by Mayor Bill de Blasio to double the number of CUNY students graduating annually with a tech-related bachelor's degree by 2022.
The five-year, $20 million CUNY 2x Tech Initiative will bring together CUNY colleges and major employers to expand access to quality tech careers and meet industry needs. The initiative will help build a world-class public higher education pipeline by enhancing classroom instruction, promoting tech-specific advising, and providing tech majors with valuable on-the-job experiences to prepare students for post-graduation careers.
"Lehman College is proud to participate in the CUNY 2x Tech Initiative, which will help us to increase our computer science majors, provide new educational opportunities for our students, and prepare them for careers in the growing tech sector in this great city," said Lehman College President José Luis Cruz. "The CUNY 2x Tech effort also perfectly aligns with Lehman's 90x30 initiative, to double the number of marketable degrees and certificates we will grant by the year 2030. I thank the Mayor and all those involved at CUNY and Small Business Services for making this happen."
"Our students from CUNY have every bit as much to offer the tech industry as students coming out of Stanford and MIT," said Mayor de Blasio. "We are adding classrooms and staff, building a bigger pipeline so more New Yorkers can land the jobs of the future."
The CUNY Tech 2x Initiative will build on the success of the Talent Tech Pipeline program, launched in 2014; a program that has had impressive results at Lehman College. Alumni of the program have launched tech careers at companies such as: Spotify, Google, Thrillist, Cablevision, Litify, Soundcloud, TripleLyft, Intrepid Pursuits, Accenture, ExpressScripts, JPMC, Viacom, Infor, NBC, and IBM, among others.
About the NYC Tech Talent Pipeline
Launched by Mayor de Blasio in 2014, the NYC Tech Talent Pipeline is the City's tech Industry Partnership, designed to support the inclusive growth of the NYC tech sector and prepare New Yorkers for 21st century jobs. The Tech Talent Pipeline works with 175 companies, 16 local colleges, and additional public and private partners to define employer needs, develop training and education models to meet these needs, and scale solutions throughout the City, delivering quality talent for the City's businesses and quality jobs for New Yorkers. http://www.techtalentpipeline.nyc/