Lehman Hosts Benefit Concert For Iconic Musician Giovanni Hidalgo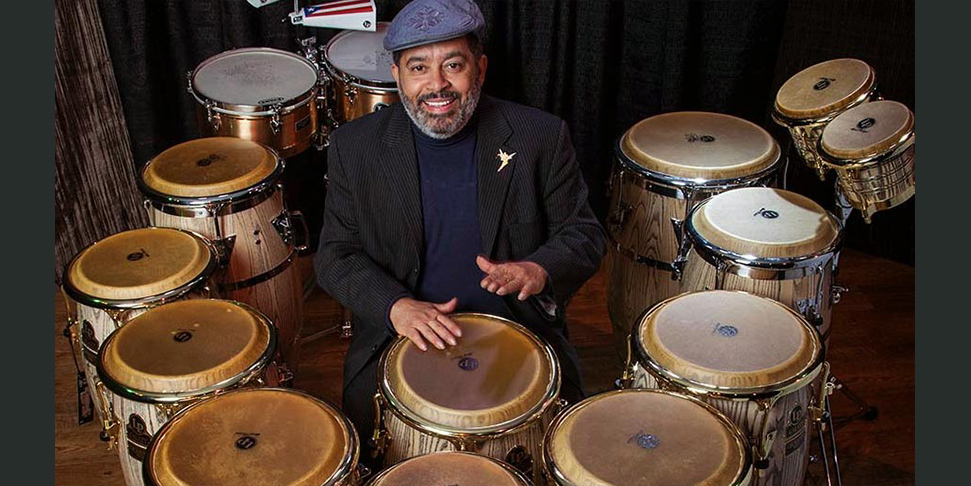 Lehman Hosts Benefit Concert For Iconic Musician Giovanni Hidalgo
The love and respect felt for legendary percussionist Giovanni Hidalgo was evident last month, when more than two dozen Latin American music luminaries appeared at a benefit concert held at the Lehman Center for the Performing Arts. The proceeds from the nearly sold-out, four-hour fundraising event will go to defray hospital bills for Hidalgo, whose severe diabetic condition has prevented him being able to work or perform for nearly three years. A GoFundMe.com campaign for donations has also been established.
The benefit concert was a night of stars and included showcase performances from salsa vocal greats Rubén Blades, Tony Vega, Luis Enrique, José Alberto "El Canario," and Domingo Quiñones, as well as instrumentals from ensembles led by the likes of Cuban percussionist Pedrito Martinez, Latin jazz star Ralph Irizarry, and former New York Yankees centerfielder Bernie Williams, now a contemporary jazz guitarist. The Afro-Peruvian group Kambalache Negro, led by vocalist Roberto "Chico" Bolaños, with pianist Eric Figueroa, was joined by trumpeter-vocalist Jerry Media A medley from singers Nayibe and Chachi added even more palpable energy to the concert, not that it was lacking any.
A special "walk-on" guest spot by famed jazz saxophonist Paquito D'Rivera during El Canario's set, as well as Hidalgo's emotional turn behind the timbales for the night's final jam session were especially thrilling moments for the crowd. Radio personalities Felipe Luciano and Nando Alvaricci served as co-hosts, and among those working behind-the-scenes to produce the concert were two of Hidalgo's percussionist friends, Bobby Allende and Marc Quiñones. WBAI-FM, Congahead and Havana Café were sponsors; and Lehman College waived the concert hall's rental cost for the event.
"All I can say is thank you to all of the musicians and people who came out for this show," said Hidalgo, 53, in early April. "This was such a special moment for me—there was so much energy flowing that night! It was a helluva show, and the whole gathering was very emotional for me. Being able to be back on stage, playing timbales, surrounded by my friends—I was so happy! Around five in the morning I was still trying to fall asleep from all of the excitement. But I closed my eyes and said a prayer for everybody and all their help."
Known as "Mañenguito" and regarded to be the top conguero of all time, Hidalgo was born in San Juan, Puerto Rico, and raised in a musical family. He began playing conga drums early on, and by the time he was 17, Hidalgo was a member of the pioneering Afro-Cuban band Batacumbele. He moved to New York City and was working with pianist-composer Eddie Palmieri when Dizzy Gillespie hired him for his United Nations Orchestra. Hidalgo's subsequent studio and bandstand associations run the gamut from Latin jazz to pop to rock, featuring some of the top names in the music biz, including Paul Simon, Tito Puente, Phish, D'Angelo, and Gloria Estefan. His work with Grateful Dead drummer Mickey Hart in Planet Drum and with jazz trumpeter Arturo Sandoval has earned him three separate Grammy Awards.
"For Giovanni, not being able to play congas has been morally defeating," said Bobby Allende after the concert. "But receiving all of this support from his friends and fans has given him a new look on life. He looks great, and he told me that his health has improved. I'm just glad we were able to put this concert on for him."