Lehman College Signs Historic Agreement with Two Cuban Universities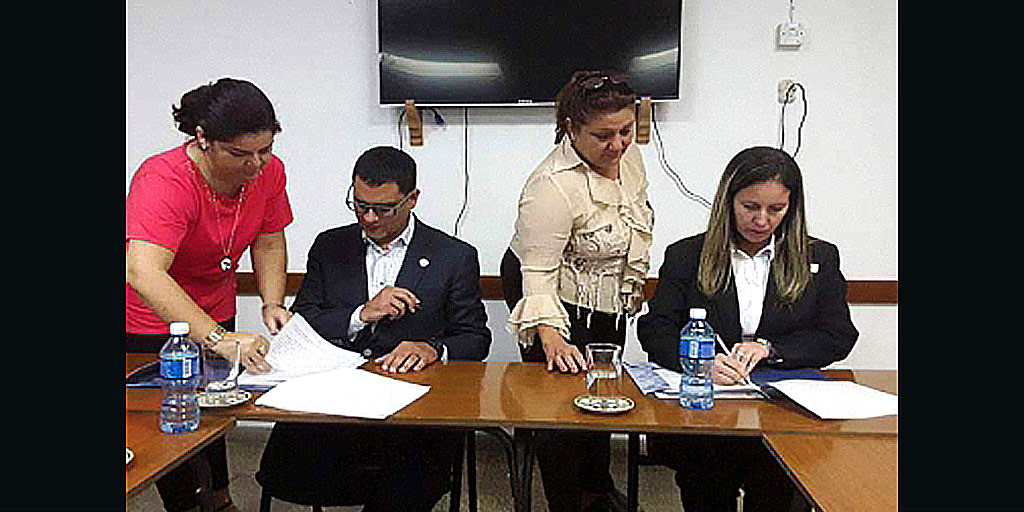 Lehman College President José Luis Cruz and Nayma Trujillo, president of La Universidad de Sancti Spíritus, sign an agreement creating an academic alliance between their colleges.
Lehman College has reached an agreement with two of Cuba's most prestigious universities, creating an academic alliance that will make classes accessible to both Lehman and Cuban students. It also paves the way for Lehman students to travel to the island as soon as next semester.
The agreements were signed on October 11 at the Sancti Spiritus University (UNISS) and on October 12 at the University of Camagüey (UC), the two participating Cuban universities. The alliance is part of Lehman's strategy to strengthen its status as a global postsecondary institution. It also promotes New York State's emphasis on student participation in experiential learning experiences.
The Lehman delegation in Cuba included President José Luis Cruz; Interim Provost and Senior Vice President of Academic Affairs Harriet Fayne; and Professor Teresita Levy, director of international programs and global partnerships, and a faculty member in the Latin American, Latino, and Puerto Rican Studies department.
"Lehman College believes these historic agreements will usher in a new era of mutual understanding and scholarship between our students and faculty, our colleges and our nations," said President Cruz. "They also create remarkable opportunities for our young people to gain a global perspective that will serve them well throughout their lives."
As part of the agreement, four classes will begin in the Spring 2018 semester, and students enrolled in those classes will have the opportunity to travel to Cuba to study and conduct research during next year's spring break.
Lehman faculty participating in the new program, include: Professors Gustavo Lopez, Deborah Sanders, Bertrade Ngo-Ngijol-Banoum, and Teresita Levy. All will collaborate with their Cuban colleagues on the development of Lehman global engagement courses. Lopez, a professor of chemistry, will teach a course on nanoparticles; Sanders, a lecturer on economics and business, will teach a course about global perspectives on strategic planning; Ngo-Ngijol-Banoum, an assistant professor of Africana Studies, is planning a class on race and gender and Levy is planning to teach a course entitled "United States and Latin America after 1823."
The groundwork for the agreements began in February 2016, when Lehman representatives attended Universidad 2016, a five-day international conference in Havana, and signed a letter of intent with Sancti Spiritus University acknowledging mutual interest in working together.