Lehman College Ranked No.4 in Mobility Rate for Students in the U.S.
Tuesday, February 28, 2017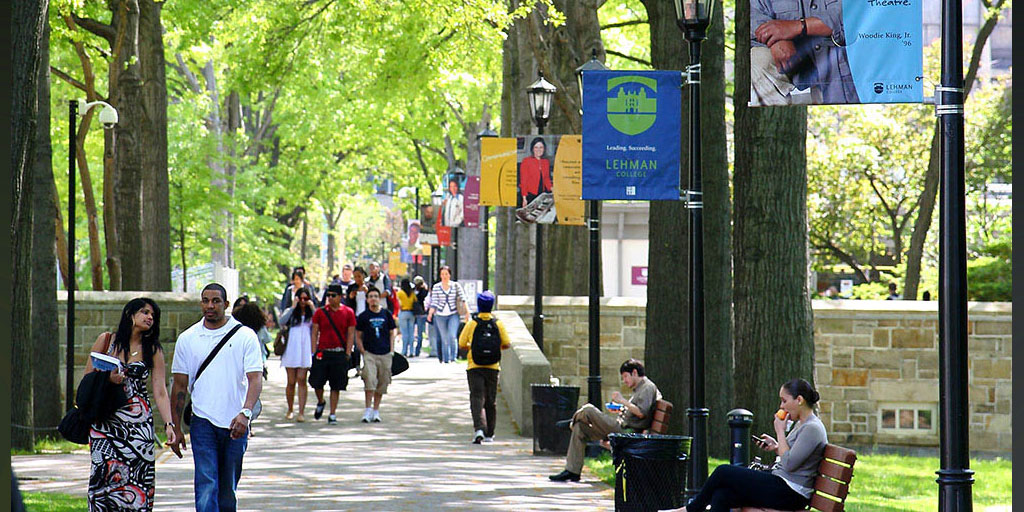 A newly released study by the National Bureau of Economic Research and the Equality of Opportunity Project ranks Lehman College No. 4 in the top ten colleges nationwide with the highest "mobility rate." The quantitative measure affirmed the success of Lehman College, the City University of New York's only senior college in the Bronx, in educating, empowering and engaging lower-income students.
The study, "Mobility Report Cards: The Role of Colleges in Intergenerational Mobility," establishes a new statistic developed by a team of economic researchers which matches a college's share of students from lower-income families with its success at "propelling" graduates upwards into the top 40 percent of wage earners nationwide.
"I never miss an opportunity to celebrate Lehman's role as an engine of opportunity, a vehicle of social mobility, and a driver of transformative change," said Lehman College President José Luis Cruz. "So imagine how pleased I felt when I learned that my rhetoric is now backed by national data. This measure of the intergenerational socioeconomic impact of higher ed institutions arrives at a portentous moment. I can think of no better reason to double down on our efforts to expand access, increase graduation rates, and reduce the time it takes our students to earn a high-quality Lehman credential."
The New York Times reported on this important new study on January 18, 2017. The study can be found here.
The study's authors, led by MacArthur Fellowship-winning economist, Dr. Raj Chetty of Stanford University, set out to assess how lower-income students faired at elite U.S. colleges. While conducting the study, the researchers realized that a large percentage of these students actually attended "mid-tier" public colleges like Lehman. They soon discovered that Lehman, which gathered 64.6 percent of its students from families in the bottom 40 percent of income distribution, moved 36.8 percent of its graduates into the top 40 percent of income earners.
Lehman and four of its fellow CUNY colleges—City College, Baruch College, City College of Technology, and John Jay College of Criminal Justice—dominate the top ten of the "mobility" list.
Because the Bronx has the lowest county percentage of New York residents with at least an associate degree, Dr. Cruz often refers to Lehman College as "the most important mission-critical senior college of the world premier public urban university."
With more than 70,000 alumni and 12,000 students, Lehman College serves the Bronx and the surrounding region as an intellectual, economic, and cultural center. The College is named after Herbert H. Lehman, who was governor of New York State, a U.S. Senator, and an advocate for strong international relations. His values of dedicated public service continue to inspire and guide the College today.