Kids Reign Supreme for Two Days in August at Lehman College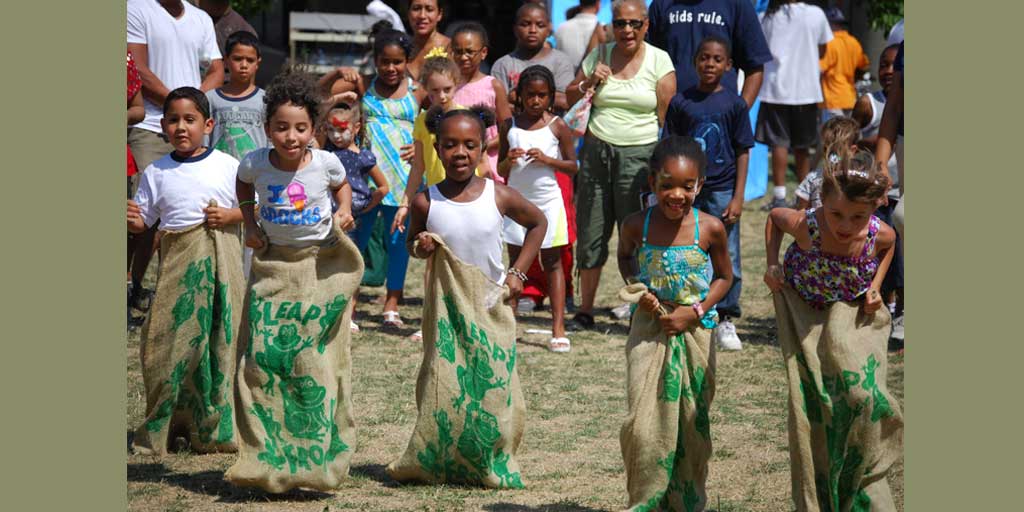 Kids Reign Supreme for Two Days in August at Lehman College
For the past nine years, for two hot, sticky days in August, Bronx children and their families have enjoyed a festival of theatre, arts and crafts, waterslides, pony rides, face painting, and more for free. It's the annual Kids Rule Weekend, and it's all thanks to a group of people at Lehman College who believe that kids rule.
In celebration of the event's 10th anniversary, and to ensure that Kids Rule continues at Lehman into the future, organizers have rounded up twelve former and current volunteers—many of whom are Lehman alumni—to help raise funds. They call themselves the Grand Jury, and they've each pledged to raise $1,000 each—for a total goal of $12,000.
The idea for a two-day event where kids can play in a beautiful and safe environment was, as Dante Albertie, director of Lehman Stages, puts it, a no-brainer. "There is a community of people here that want and need something like this," he explained. Recognizing that Lehman students were its greatest asset, he got 30-40 student volunteers to put on a few theatrical shows and play with the children that first year. He brought in an electric grill to cook hotdogs.
For the second year, Albertie borrowed his parents' grill. José Roldán ('05), now a playwright and actor, flipped burgers at that event. Communications specialist Allie Mautone ('07) remembers that the entertainment consisted of mostly tabletop carnival games. Alicia Waldie ('06), an accountant, shared her hip-hop dancing skills with the kids. Yini Rodriguez ('13), an administrative coordinator at the College, has been there since the beginning as well, and returns every year to lend a hand. Reynolds Fernandez ('13), an account manager at a marketing research firm, is a performer at heart and is happy to be part of the entertainment. Henry Ovalles ('06), now the associate director of Lehman Stages, remembers the smiling faces of the happy children during the shows.
The Grand Jury all agreed to participate in the fundraiser for the same reason: They love being part of something that is positive and gives back to the community. They have witnessed the event's evolution over the years with attractions and attendance—an estimated 3,500 guests participate in the weekend-long event. But, most importantly, they can see the impact they have on the children and their families. "It's a joyful event and it exposes the little ones to a college campus," said Rodriguez.
"What is amazing about the Grand Jury is that they are people who have been with us from the beginning. Students who volunteered when they were sophomores and juniors, and now they're out in the world, starting careers and families, and they want to give back to a specific thing that they know is important. It's great stuff and I'm proud to be a part of it," said Albertie.
Regard for Albertie runs high among the group, as well. Many credit him for giving them their first taste of theater and for what it means to belong to a place and a time. "It's Dante who brings us all together," said Alicia Waldie. "Even if we haven't seen each other all year, we know we'll be together the first weekend in August."
Kids Rule will run on August 5 and 6, from Noon to 5 p.m. Admission is free. All children are welcome. To donate, go to lehmanstages.org/kids-rule.