Commencement 2017: A Beautiful Day in the Bronx with Hope, Dreams (and even Love!)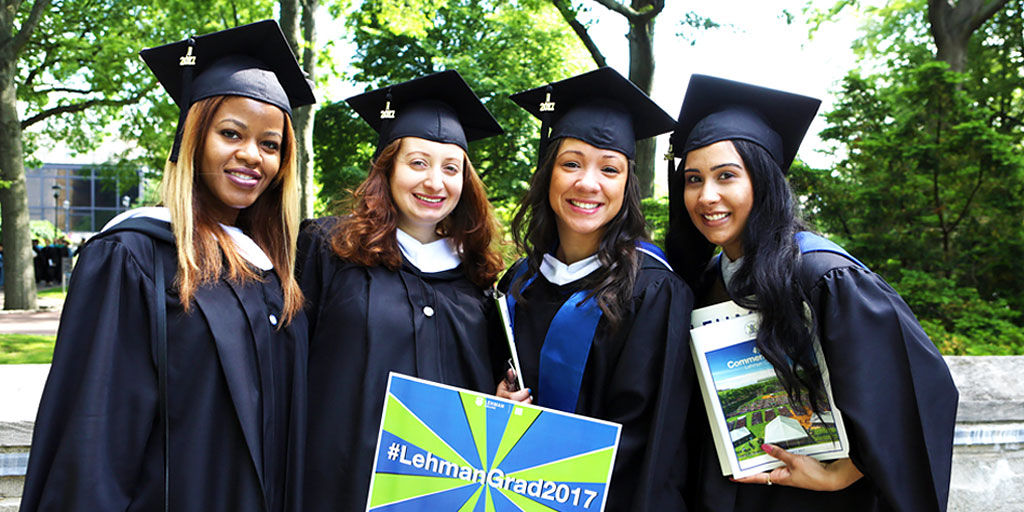 A Beautiful Day in the Bronx with Hope, Dreams (and even Love!)
The Lehman College Class of 2017 was sent off to begin the next chapter of their lives with words of encouragement from the U.S. Senate Minority Leader, and the Chancellor of the New York State Board of Regents. It was also a beautiful sunny day with love in the air, as one graduate student proposed to another onstage and the crowd roared its approval. (For the record: She said yes.)
The college's 49th Commencement Ceremony also marked the first commencement milestone for Dr. José Luis Cruz, who just completed a memorable year as Lehman's third president.
"The milestone we observe here today, evidences the strength of your character, the depth of your dedication, and the firmness of your purpose," Cruz told the graduates.
It was a day none of the students would forget, especially Melvin Thomas and Maria Almeida. The morning's biggest surprise came when Thomas proposed to Almeida on the podium, in front of their classmates, and she happily accepted. The couple met 15 years ago as Lehman undergraduates and at the ceremony, received their Master's of Science Degrees in Education. Both are currently employed as educators in New York City.
Senator Charles E. Schumer told graduates about an early misfire after he graduated from Harvard in 1971. Schumer was offered a scholarship to travel around the world, but rejected the offer to stay in the U.S, with a girlfriend. By September, the girlfriend had dumped him, leaving him alone and without his scholarship.
After several months of "moping," he set his sights on Harvard Law School, and in 1974, by the age of 23, he was elected to New York State Assembly. He told the graduates to just "go for it" and pursue their passions.
Schumer acknowledged we live in a dangerous world, but offered the graduates hope. "A generation ago words like terrorism, and suicide bombing were never heard of, he said. "But the good news is this: Your generation is perhaps better equipped than any generation that's come before it, to adapt to these changes, to overcome the obstacles they present, and to seize the opportunities they afford."
Dr. Betty A. Rosa, Chancellor of the New York State Board of Regents, delivered the commencement address, describing herself as "Betty from the block," a riff on the Jennifer Lopez song, but also a demonstration of affection for her Bronx roots. Rosa received a Masters of Science in Bilingual Education at Lehman in 1978. During her career she's been a New York City school principal and superintendent. She was elected to the Board of Regents in 2008 and elected chancellor in 2016.
Rosa criticized the current presidential administration for its Mexican wall proposal, contrasting it with President John. F. Kennedy's 1963 speech in West Berlin.
"No matter what field you have chosen to pursue, pursue it with passion and resolve, but I would hope you will engage in some kind of political action regarding the state of this country, and help this world move forward," she said. "Pursue your dreams with strength, intelligence, and most importantly, live your life with love and a moral compass in your hand."
President Cruz reminded the graduates that they are part of larger legacy—one that has been happening at Lehman for nearly a half century. "Let's let the world know that those who are fortunate enough to be part of Lehman College's legacy, those of you graduating here today, are ready, willing, and able to not only advance your own pursuit of happiness, but to do so in a way that will help eradicate the social, educational, and economic disparities that persist to this day, in the America we aim to perfect," he said.

Click here to watch the video