Chancellor Fariña Kicks Off Third Annual Borough-Wide Arts Festival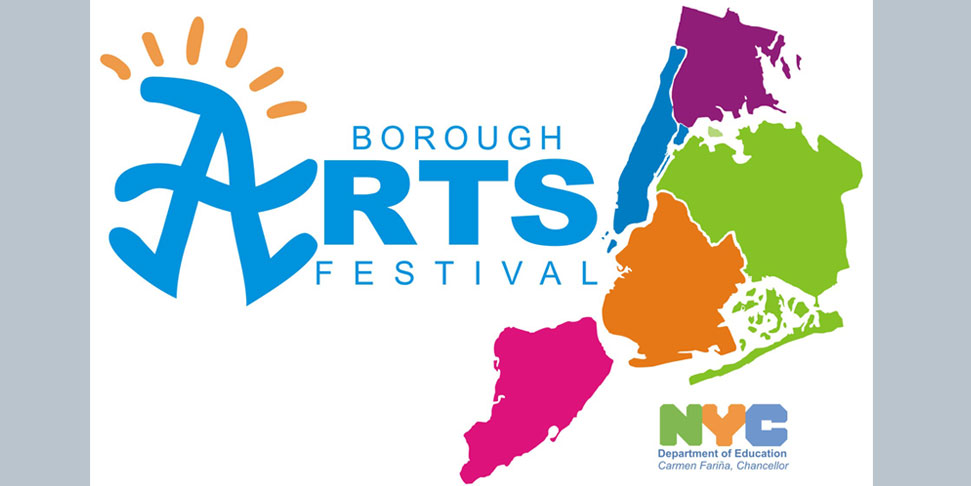 Image of the Borough Arts Festival
NEW YORK – Chancellor Carmen Fariña today kicked off the third annual Borough Arts Festivals, a series of visual and performing arts events in each borough that provide platforms for nearly 2,700 students from over 460 schools to showcase their work from the school year. The borough arts festivals take place at art galleries, theaters, museums, and other cultural locations across the City, and host families and community members.
"The arts are an essential part of all students' comprehensive education, and this is a wonderful opportunity to showcase the many talents of New York City students and teachers," said Schools Chancellor Carmen Fariña. "The arts are not frills, instead they inspire us and reenergize us. I congratulate the talent and creativity of our students and urge community members to join in celebrating their achievements."
"The young artists in our public school system are the best evidence there is for the extraordinary value of quality arts education for all students," said Cultural Affairs Commissioner Tom Finkelpearl. "I'm proud to serve in an Administration that understands the transformative benefits of quality, sequential arts education, and I applaud these students whose creative energy is the single best indicator of our city's bright future."
Students from pre-K to 12th-grade will exhibit their work and take part in performances at arts festivals over the next several weeks. Historic venues and cultural institutions across the City, including the Museum of Modern Art, the Apollo Theatre in Harlem and the Newhouse Center for Contemporary Art on Staten Island, will host the events.
"I congratulate students for the projects being featured in the arts festivals and for the remarkable work that they create throughout the school year, and thank all of the families, schools and partners who make these events possible," said Paul King, Executive Director of the Office of Arts and Special Projects. "We remain committed to bringing the arts and culture to every public school classroom, and providing students with the opportunity to develop their academic and creative passions."
The City has taken unprecedented steps to increase access to arts education by investing $23 million annually. This includes funding to add nearly 100 additional certified arts teachers in high-needs middle and high schools, creating and upgrading art studios in schools, and expanding the popular middle school program "Teen Thursdays." The City has the highest number of arts teachers in 11 years, has enhanced art facilities at schools across the five boroughs, and provides professional development for community early childhood centers to ensure they are offering student-centered and imaginative arts instruction for our youngest learners.
Dates and additional information for each of the borough arts festivals are below.
STATEN ISLAND BOROUGH ARTS FESTIVAL
Visual Arts Exhibition: May 5 at 5:00 pm | Newhouse Center for Contemporary Art This exhibition will continue through June 5
Performing Arts Showcase: May 11 at 6:00 pm | Newhouse Center for Contemporary Art
BRONX BOROUGH ARTS FESTIVAL
Performing Arts Showcase: May 12 at 6:00 pm | Lehman College Lovinger Theater
Visual Art Exhibition: May 12 at 7:00 pm | Lehman College Art Gallery |
This exhibition will continue through May 22
QUEENS BOROUGH ARTS FESTIVAL
Visual Arts Exhibition: May 23 at 5:00 pm | Queens Museum
This exhibition will continue through May 15
Performing Arts Showcase: May 26 at 6:00 pm | Queens Theatre, Flushing Meadows Corona Park
BROOKLYN BOROUGH ARTS FESTIVAL
Performing Arts Showcase: May 24 at 6:00 pm | Brooklyn Performing Arts Center at Brooklyn College
Visual Art Exhibition: May 31 at 6:00 pm | Brooklyn Borough Hall
This exhibition will continue through June 3
MANHATTAN BOROUGH ARTS FESTIVAL
Visual Art Exhibition: June 5 at 6:00 pm | Museum of Modern Art
This exhibition will continue through June 11
Performing Arts Showcase: June 6 at 6:00 pm | Apollo Theatre
Contact: Chancellor's Press Office (212) 374-5141