CUNY Program Gets 25 Lehman Students Real World Experience
Sunday, September 17, 2017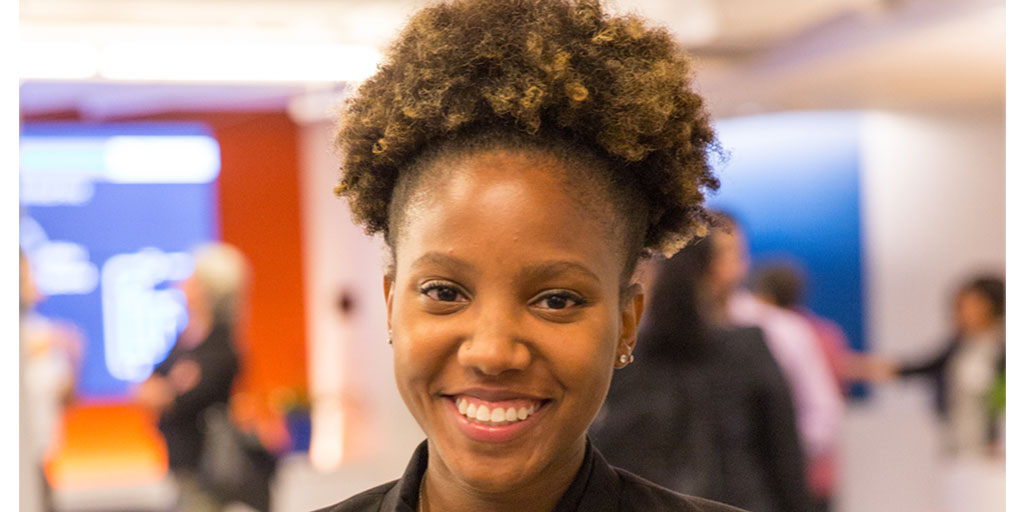 Tech Talent Pipeline Student, Maya Gillis
This past summer, 25 Lehman computer science students worked as web and mobile developers at some of the City's most dynamic tech companies and startups, including Time Inc. and Gestalt Interactive. These students were part of the NYC Tech Talent Pipeline Residency program.
The Residency began with a four-week training program overseen by the New York Code and Design Academy and focused on building web applications and introducing students to tech workplace skills. After completing the training, students began interning at companies such as Time Inc., where they worked on projects for TIME, People and Sports Illustrated magazines.
"It's a great opportunity for Lehman students to be connected to New York City's emerging tech sector," says Alison Wong, Lehman's Tech Talent Pipeline program director.
"We are so proud of the first Lehman TTP Residency program cohort," says Christopher Malone, associate dean of the School for Natural and Social Sciences. "Personally I am amazed at what they have accomplished, but not surprised by the employer feedback we have received about their knowledge, passion, and enthusiasm. I have always said that 'If you give Lehman students an opportunity, you won't regret it.'"
When their internships ended, all were invited to present a summary of the work they had accomplished this summer at the "Tech Talent Pipeline Residence Showcase" held at LinkedIn headquarters in Manhattan.
Francisco Garcia, a Lehman senior who participated in the showcase, spent the summer at a company called "PlateRate," a startup that rates individual menu items at restaurants, allowing diners to find food that matches their dietary needs.
The idea is that PlateRate users can find ratings for any single menu item ranging from fettuccine Alfredo at their local Italian restaurants to Chow Har Ding at a neighborhood Chinese restaurant.
"I'm thankful that the Pipeline Residency put me in an environment where I could flourish and grow," says Garcia, who worked as a junior web developer. "It makes you more confident of your core skills as a developer. PlateRate provided me with a lot of guidance and a lot of freedom."
Garcia says that he primarily helped the startup with data migration. The experience was so mutually beneficial that PlateRate has hired Garcia as a part-time software engineer.
Maya Gillis, a Lehman senior, spent the summer working for Doppler Innovations TC a Queens-based cyber security consulting company.
"It was my first go around doing web programming, so it was a little intimidating she says, about the training program. "It forced me to become a fast learner in areas that I didn't know before."
The training gave Gillis a stronger sense of confidence and prepared her for the internship at Doppler. Gillis helped update and redesign the website and did research in the fields of cyber security,, which she wants to specialize in after graduation this fall.
"I definitely think it will make me more marketable," she says about the work. "My previous experience was more on the corporate side and at Doppler it was more on the technical side, and the security risks that companies present them with."
A second cohort of students will be selected this fall for part-time internships in Spring 2018. For more information, contact Alison Wong at alison.wong@lehman.cuny.edu.