Bronx EdTech Showcase To Spotlight Innovations in Online Education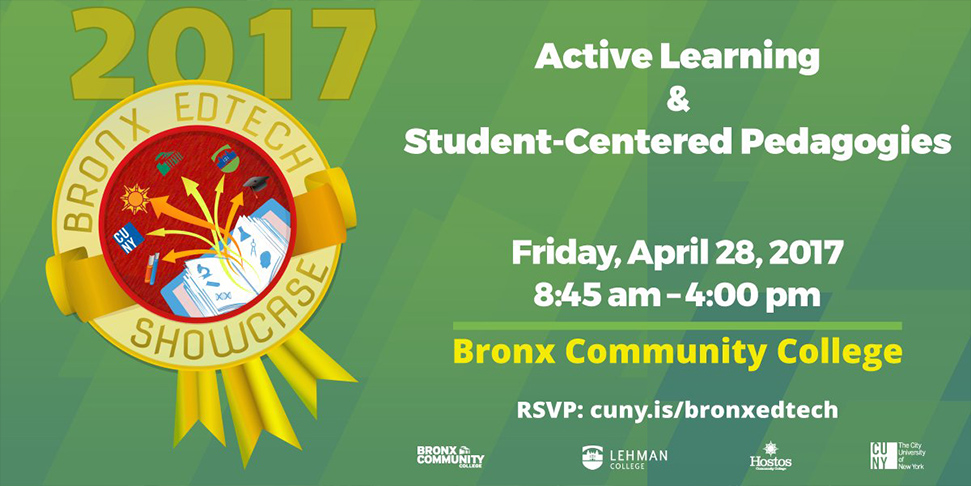 Bronx EdTech Showcase to Spotlight Innovations
Every year, the Bronx EdTech Showcase brings together some of the borough's leading innovators in advancing how technology is taught on CUNY campuses. The fifth annual showcase will be held this year at Bronx Community College (BCC) on Friday, April 28. Lehman College will be represented by four educators who will be sharing their insight and work.
The theme of this year's conference is "Active Learning & Student Centered Pedagogies." The showcase is a joint annual collaboration of Lehman, BCC, and Hostos College. Lehman hosted the event in 2016.
"Steve Castellano has been driving this initiative," says Olena Zhadko, referring to her colleague, who is the campus BlackBoard administrator and sits on the EdTech showcase steering committee. "A lot of the hard work and collaborations that Steve has provided to the faculty, results in these showcases. He's laid the foundation."
Professor Bret Maney, an assistant professor in Lehman's English Department, will be making a presentation at the showcase called "Building the Digital Humanities Classroom: English Innovations in Multimodal Teaching and Learning." Maney will discuss the design, funding, and implementation of the English Department's new Multimodal Learning Lab, an interactive digital learning environment. The lab is a state-of-the-art networked smart classroom that offers retractable virtual desktops, a sophisticated short-throw projector, interactive whiteboard, and presenter's podium.
Presenting with Maney will be Professor Paula Loscocco, chair of the English Department; Deirdre O'Boy, lecturer and assistant chair, English Department; and Jennifer Martinez, IT assistant, English Department.
Professor Jonah Brucker-Cohen, an assistant professor in the Journalism, Communication, Theatre and Dance Department, is making a presentation called "Socializing Educational Spaces With Shared Input From Mobile Devices," which will elaborate on his recent projects that focus on "allowing large scale collaborative input from people in shared spaces, using data from mobile devices such as cellphones and tablets."
The third showcase from a Lehman educator comes from Frank Mercogliano, an adjunct instructor in the Sociology Department, who will be presenting the "Effects of Student Learning by Utilizing Hybrid Methodologies." Mercogliano will discuss the efficacy of using video presentations accompanied by power point notes in student learning.
And Ediltrudys Ruiz, Lehman's Assistant Vice President for Information Technology, will be on a panel with administrators from BCC and Hostos, called "The Status, Present, and Future of Online Education at CUNY."
"This panel is going to be about CUNY's plans going forward and the promotion and globalization of online education," says Castellano. "The objective is to get us out their worldwide and to maintain a bigger global presence."
Castellano says that Lehman has been at the technology forefront of CUNY schools since 2014, with its integration of technology into the classroom, and use of BlackBoard. BlackBoard is a virtual learning and course management system, used to add online elements to classes and develop entire online courses.
"We've a strong foundation for BlackBoard use," says Zhadko. "Once faculty tries BlackBoard, and feels comfortable, they feel confident teaching hybrid and moving to teach online. This is an opportunity for our faculty who are working with tech to showcase what they're doing."
About 200 people are expected to attend this year's showcase and there will be 35 presentations. The keynote speaker is Jessica Brodsky, the Learning Designer and Program Manager, Active Learning Institute Center for Teaching and Learning, at Columbia University. Her presentation is called "Putting Active Learning into Practice: Preparing Instructors to Integrate Active Learning Inside and Outside the Classrooms."
The event will be held between 8:45 a.m. and 4 p.m. at BCC's North Hall Library.
In 2014 and 2015, Lehman enrollment in online and hybrid courses reached nearly 10,000 students. Hybrid and online course offerings have been steadily growing, reaching 700 and 800 courses in 2014 and 2015, respectively.