A Calling for Public Service: Lehman Alumnus Finds His Niche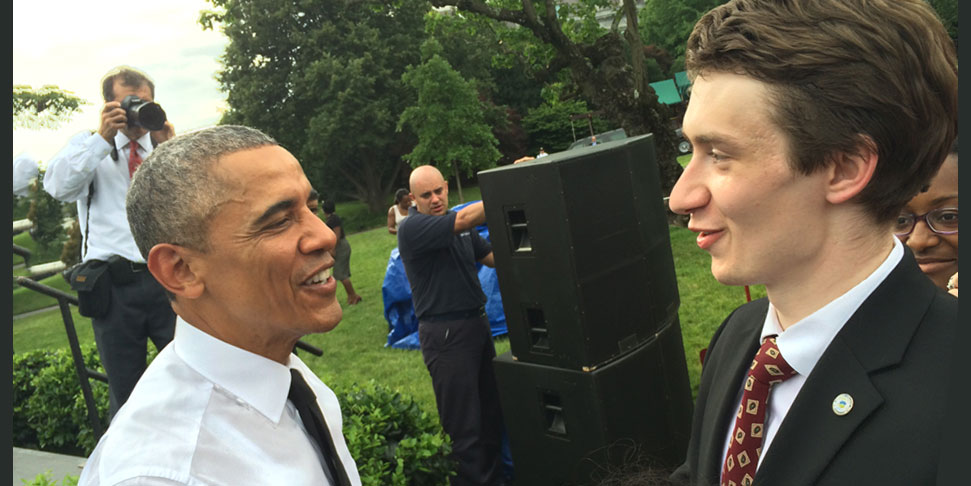 A Calling for Public Service: Lehman Alumnus Finds His Niche
By Melanie Hernandez
Joseph Lawlor has been drawn to the notion of public service his entire life. At first he leaned toward teaching, but that all changed during his senior year at Lehman when he was accepted into the CUNYService Corps. From there began a journey that led him to an internship in the White House and to his current work for a startup nonprofit called Opportunity@Work, which provides job training opportunities in the technology field.
The nonprofit has its roots in the Obama White House. As an intern there in 2015, Lawlor was assigned to the National Economic Council as the executive assistant of the TechHire Initiative. In this position, Lawlor helped to launch the program that was devised to give Americans a viable path to middle-class jobs with good salaries. The program was discontinued at the end of Obama's term, but it was reborn as Opportunity@Work.
The organization focuses on expanding access to career opportunities by improving hiring practices and making it easier for companies and job seekers with non-traditional backgrounds to find each other. The group also works to match people with schools and job-training providers that will help them gain the skills needed to advance in their career choice. Finally, they're finding innovative ways to mitigate the financial burden of job training on individuals.
"It's fantastic," said Lawlor. "We hope this model can be used for the rest of the country. Our mindset is to rewire the labor market so that people can get hired based on skills instead of pedigree. We talk the talk and also walk the walk. It's very special to be a part of an organization like this. It's more pressure because it's a startup, but it's exciting."
As for his time at the White House, Lawlor says it was the most incredible experience in his life. "Walking down the hallway and I see Joe Biden…it's pretty cool to see them in person, especially as someone who is interested in politics. Being surrounded by public service enthusiasts was incredible. I built great relationships with the other employees and interns," said Lawlor.
He credits the CUNYService Corps for exposing him to an area of public service he would never have considered otherwise. Lawlor was a Macaulay Honors student, double majoring in economics and history. At the time, his plan was to be a history teacher in the New York City public school system.
When he was accepted into the Corps, he used his economics background to land a placement with the Federal Reserve Bank. When that internship ended, he applied for another one with the CUNY Edward T. Rogowsky Internship Program in Government and Public Affairs where he worked for two months in the Commerce Department.
The CUNYService Corps has partnerships with more than 400 New York City community organizations that aim to improve the health, economic, and educational well- being of underprivileged residents.
Lawlor is a first generation college graduate whose parents immigrated to the United States from England. He recognizes CUNY for his achievements, which have led him to his fulfilling career in public service. He plans on returning to graduate school to study public policy and education. His research will be based on how education influences career outcome and the ever-changing labor industry.