How the Office of Prestigious Awards Helped One Student Pursue Passion for Art and Science of Dentistry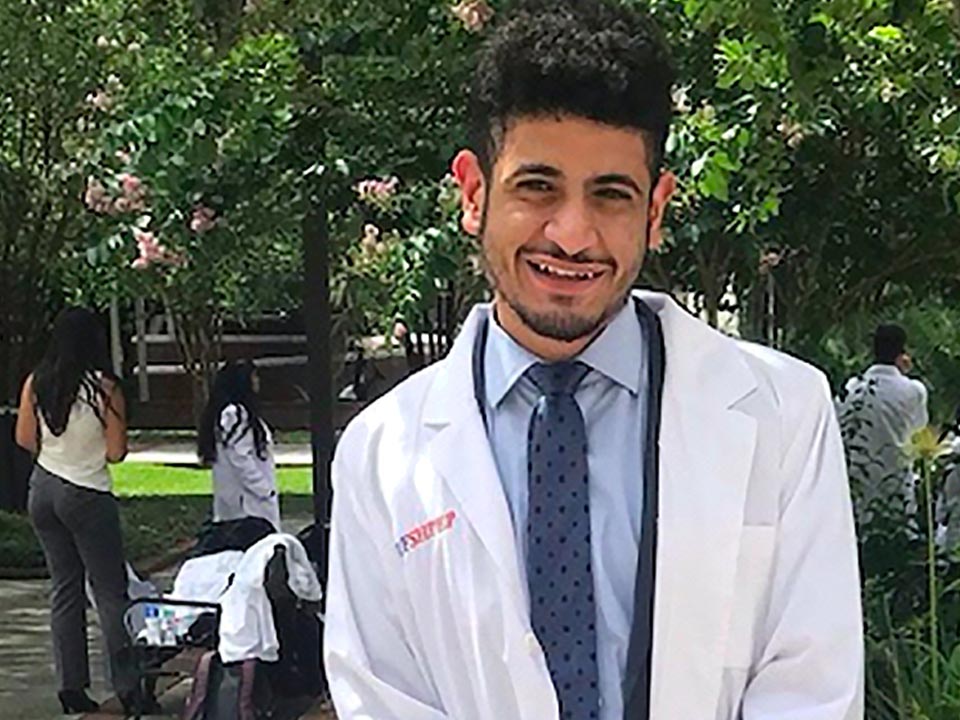 How the Office of Prestigious Awards Helped One Student Pursue Passion for Art and Science
When biochemistry major Abanoub Hanna entered Lehman College as a freshman last year, he already knew he wanted to pursue a career in health sciences. He was less certain, however, about the specifics—although he was considering either a pre-med track or dentistry, he couldn't tell which might be the better fit.

Hanna's interest in both fields stemmed from a health crisis that his father experienced in 2005, a result of severe periodontitis. Those events impressed upon him the importance of routine dental care and exposed him to the practical impact medical practice plays in people's lives.

At an event hosted by Lehman's Office of Prestigious Awards, the Macaulay Honors student met a mentor—and credits her, as well as the director, Alice Michelle Augustine, with helping him acclimate to College life and dream big.

"They made me feel at home and helped me to realize my potential," said Hanna.

Hanna knew that hands-on experience would help him decide on a career path so he worked with the OPA to apply to three competitive programs that offered internships, mentoring, and other types of experiential learning. He was accepted by two of them: America Needs You (ANY), a two-year program that provides mentorship and career development for first-generation college students; and the Summer Health Professions Education Program (SHPEP), an expenses-paid summer enrichment program for students interested in health professions held at 12 host universities across the country.

For Hanna, who immigrated to the U.S. from Egypt with his family when he was 3 years old, the America Needs You program and its focus on first-generation college students has provided invaluable experiences during the school year. But it was SHPEP, he said, that ultimately helped him decide on dentistry as a career path.

"Aba is very serious about his future," said Augustine. "From his first week on campus, he has come to the office religiously—working on applications, rolling with the punches, taking the 'Nos' and moving on from them with renewed determination… Aba will make it anywhere because he is determined to succeed and works hard to meet his goals."

The University of Florida hosted Hanna's SHPEP program, where he and other students got to shadow dental students and, every Wednesday, work in the simulation labs at the University's dental school. There, students took impressions, made dentures, and were exposed to specialized tools and techniques.

For Hanna, it was one of the most exciting aspects of the experience. "This is what the dental students are supposed to do in their second year of dental school, but I already got to be exposed to that as a rising sophomore in college," he said.

Beyond that, it was also a lot of fun. "Sometimes they'd let us wear the white coat and that, even more, made me feel like a doctor," he said.

Hanna noted how oral health is critical to human health, noting that—as his father experienced—bacteria and inflammation in the mouth can travel to the rest of the body and cause major health problems. In addition, he has since become acutely aware of oral health disparities in Egypt, and hopes to give back to underserved communities there one day.

He also sees dentistry as an art.

"Like with dentures, you have to define the teeth and the gums so perfectly, so they can fit in a person's mouth." When a filling or a root canal, a similar level of perfection is required, he said.

In fact, he enjoys it so much, that he's already taking his next steps in making it his career: Hanna recently learned that he was accepted into a summer medical and dental preparatory program at the University of Connecticut.

While he's happy to be in the program, Hanna is also disappointed—like so many programs that offer hands-on experience to students, this one will also be taught remotely because of the coronavirus pandemic. Still, he is looking forward to the professional skills development and preparation for the dental admissions test (DAT) that it will offer—components that initially attracted him to the program.

The preparation will give him "a better feel for the DAT and … more confidence in my test taking abilities," said Hanna. And then, "I will be one step closer to achieving my goal."

Hanna has a close friend in Florida who shares his goal, and although far apart, they work remotely to "support each other, by helping each other choose the science classes that we will take each semester, so that we can complete our pre-dental track," he said. "Whenever one of us feels like giving up after feeling overwhelmed by the workload, we motivate each other to keep going."

Students who wish to learn more about how awards, fellowships, and summer residency programs can help bring their interests and career paths into focus may contact the Office of Prestigious Awards at prestigious.awards@lehman.cuny.edu.