'Hungry to Learn' Doc Tells Lehman Student's Story of Food, Housing Insecurity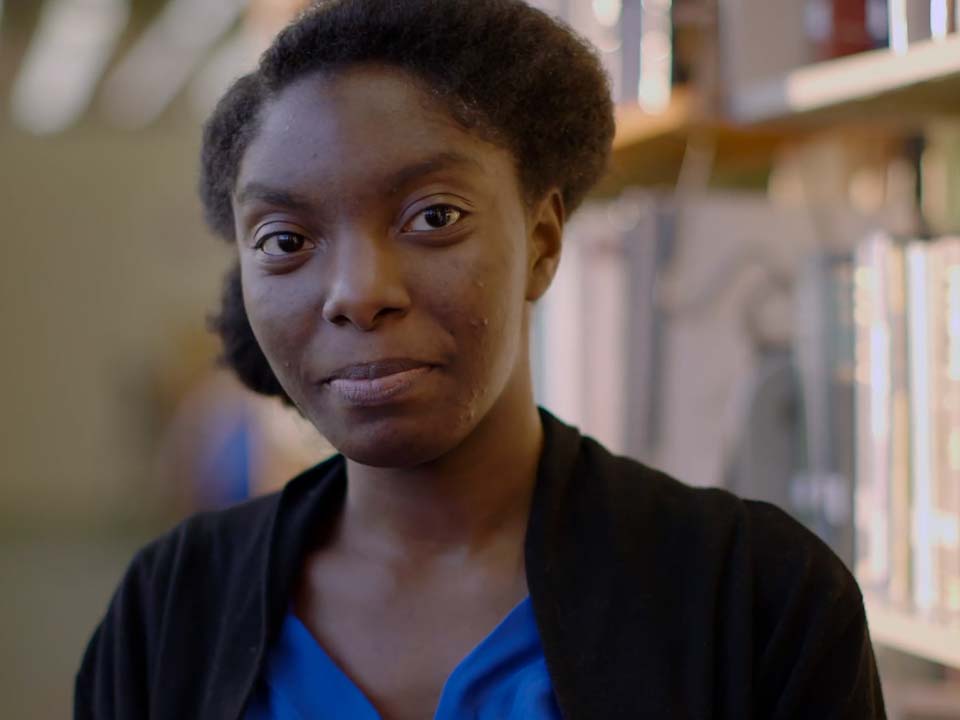 Over the past several years, as federal and state funding for education dries up and tuitions increase, food insecurity among college students has become a national topic of conversation, gaining increasing attention among college administrators, policymakers and the press.

At Lehman College, that conversation began in the Office of Campus Life, when students began confiding to staff there that they often skipped meals or went entire days without eating because they didn't have enough money to buy food. Some reported homelessness. And it wasn't just a few students. When staff began proactively asking students if they were getting enough to eat, out came students' stories of food insecurity.

One of those stories and the issue of food insecurity on college campuses nationwide is now the subject of a new documentary, "Hungry to Learn," premiering Nov. 9 at SVA Theater as part of the DOC NYC film festival. Produced by Soledad O'Brien Productions, led by the Emmy Award-winning journalist and producer of the same name, the film follows four students from three Northeast colleges as they try to pursue their education while struggling to feed themselves.

While students from Susquehanna State University, in Pennsylvania, and New Jersey's Montclair State University are featured in the film, it is Lehman College student Shaquara Peter's journey that is featured most prominently, showing her navigating multiple bureaucratic systems just to keep herself fed and a roof over her and her father's heads while she pursues her degree in nutrition, which she earned in January. She is now looking to attend graduate school at the University of Florida.

Through interviews with students and staff, the film also shows Lehman's efforts to combat hunger on campus and provide other supports to students in need. One of those efforts is the Herbert H. Lehman Food Bank. Established in March 2017 by the Center for Student Leadership Development at Campus Life, the food bank offers Lehman students healthy meals, a supportive community and access to additional food and housing resources.

Since its opening, Lehman's food bank has doubled the number of students it serves, from 40 to 80 students per week. Overall, approximately 900 students have been served 3,996 bags of groceries, the equivalent to 35,964 meals. A "Grab-and-Go" program provides ready-to-eat items daily, and serves approximately 100 students per week. Student acess is based solely on self-identified need and requires no proof of income or proof of eligibility. Students only need to make an appointment online so that they may be assisted by staff. Hours of operation are Mondays, 4-8 p.m., and Wednesdays and Thursdays, 10 a.m.- 4 p.m.

Task Force on Food Insecurity
Food insecurity, which the U.S. Department of Agriculture defines as a household-level economic and social condition of limited or uncertain access to adequate food, has proven to not only be a public health issue but also an educational one-studies have shown food insecurity has a direct impact on a student's GPA.

Food insecure students are more likely than their food secure peers to take a leave of absence (48% vs. 32%, respectively), according to a report by CUNY Graduate School of Public Health & Health Policy, published in February 2018. The same study conducted a regression analysis that, adjusted for income, race, age and gender, found food insecure students had 1.3 times the odds of having a GPA lower than 3 compared to food secure students; 45% of food insecure students had GPAs lower than 3.0 compared to 36% of food secure students.

Exact numbers vary based on methodology, but studies have found that between 40% to as high as 55% of Lehman College's student body experiences food insecurity, prompting President Daniel Lemons to create a task force this past July to examine the crisis of food insecurity at Lehman and develop a plan for services and programs that address students' basic needs. Recommendations from the group will be implemented by the Lehman CARES Coalition.

"Hungry to Learn highlights homelessness and hunger on college campuses," said Lehman College President Daniel Lemons. "A Lehman College graduate who faced both of these distressingly widespread circumstances is featured in the film - but she is not alone. The diverse demographic of Lehman's student body is also an accurate representation of the populations most affected by socioeconomic inequity. By addressing the changes necessary to expand the culture of care on campus, we will be bolstering our academic success initiatives-and meeting the College's mission as well."

The screening premiers just as Lehman launches its Giving Tuesday campaign, which Lemons said in an email to the campus is "one way to offer your support to help alleviate hunger and homelessness among our student population."

"Hungry to Learn" screens at 2:15 p.m., Saturday, Nov. 9, at SVA Theater and again at 12:40 p.m., Monday, Nov. 11, at IFC Center. Discounted tickets for the Nov. 11 screening will be available for students who present their college ID at the box office. Show times and locations are available here.